Rumors on Prime Day slump, not true?
Image credits: eStore Factory
This Prime Day, consumers are growing to be practical.They are prioritizing necessities over indulgences, yet they are still spending more than expected.
Purchase data findings show that the average Prime Day 2022 spend per order is $53.14 compared to last year's $47.14. So far, 42% of orders have been for $20 or less, while 13% have been for $100 or more.
Amazon has geared its attention toward attracting bargain hunters searching for affordable pantry stocks and low-priced electronics. A report from Numerator recorded last Tuesday that there was an increase of 20% in the typical household spending since the previous June sale. The best-seller in the early hours was a Frito-Lay variety pack of snack chips.
Furthermore, the report said that 83% of Prime Day buyers consider inflation as the primary variable affecting their purchasing behavior.
Yet there is another product category experiencing a profit increase. Branded items generate a big chunk of Amazon's annual sales and have increased by 30% during Prime Day despite offering lesser discounts. It has outstripped the single-digit growth expectation.
Sellers experienced a sales surge hours after the launching of the event. According to Channel Key e-commerce consulting firm, their clients experience a 12% spike in sales in the first six hours of Prime Day compared to the previous year.
Takeaway: What probably made Amazon Prime Day 2022 a hit? Forbes reported on July 13, Thursday that aside from flooding consumers with organic and paid campaigns on social media, Amazon affiliate program appeared to be effective. Influencers and news outlets alike curate offers and goods in exchange for an affiliate commission on any sales made as a result of their promotion.
E-commerce inflation increased by 0.3% YoY but fell by 1% MoM in June
Image Credits: EcomCrew
According to the Adobe Digital Price Index report, online grocery prices continue to increase despite inflation falling. In June, grocery prices rose by a record 12.4 percent year over year, setting a new high. This gain comes after earlier record-breaking year-over-year increases of 7.6% in February, 9% in March, 10.3% in April, and 11.34% in May.
As a consequence, e-commerce spending appears to be declining more in June ($74.1 billion) as compared to what was recorded in April ($77.8 billion) and May ($78.8 billion).
Adobe Commerce survey released recently revealed that 61% of consumers were waiting for Prime Day sales to avail of promos and deals. Some even plan to make their most significant purchases at this event. They say they would maintain their previous year's expense limit or would spend more.
The first day of Amazon Prime Day revealed that inflation and the downward sloping economy will impact the sales this year. Americans spent $4.7 billion less in June than the previous month.
Takeaway: The ecommerce inflation has reshaped Amazon Prime Day, especially consumer behavior. Even though Prime members are willing to spend more than they spent last year, they are still willing to give up a good deal for the reason that the product is not a necessity.
Report: E-commerce sales to exceed $1 trillion this year
Image Credits: Vapulus
FTI Consulting projects that in 2022, online retail sales will reach $1.07 trillion, surpassing its pre-pandemic prediction of 2025, partly due to growth brought on by the pandemic. Online retail sales outside the car and gas industries will reach 22.1 percent by 2022, up from 20.8 percent in 2021 and 15.2 percent in 2019.
The report further says that e-commerce sales will reach $2 trillion by 2030 and account for 31% of total sales by the decade's end.
According to a 2021 Forester report, even though eCommerce has already established its pillars in the retail industry, physical stores remain significant, and three-fourths of the retail sales in the US will still occur in person.
A poll of international retail leaders Ipsos for Publicis Sapient and Salesforce found that 44 percent of online-only merchants were not profitable, compared to 20 percent of brick-and-mortar stores that reported the same. Operating an online-only business is still difficult.
Takeaway: Online shopping in this past 2 years was driven by necessity due to Covid-19 restrictions. FTI Consulting said that ecommerce spending in the 2nd half of 2022 will modulate as the pandemic cools down and the inflation rises.
7 Figure Seller Summit Pre-Event Survey – Vote now!
I'm building out the 7 Figure Seller Summit 7 and would love it if you could spend 5 min to fill out this short survey so I can learn about your challenges and goals for the remainder of 2022.
I would appreciate your honest feedback as this will help us create the best Amazon conference for you!
5 min survey: https://forms.gle/sbn4KZaxz4xpsnjg7
Thank you so much!
7FSS Top 5 Youtube Videos for 1H 2022
Have you checked out our Youtube channel yet? For the first half of the year, we were able to invite awesome guests and experts who have shared a lot of tips and value.
Here is the list of top 5 videos on the 7FSS Youtube channel for this year:
#5 – Amazon Profitability MASTERCLASS: How to Know your Numbers and Turn Around Declining Sales
Gary invited Marc Jepsen from ManageByStats to share how you can know your actual profits so you can SCALE and prevent your sales from decreasing over time. This conversation has helped sellers know their numbers as they run their Amazon business,
#4 – I interviewed 153 7 Figure Sellers, Here's what I learned
In this video, Gary discussed one-by-one his key takeaways after he interviewed 153 – 7 figure sellers and ecom experts after hosting the 7 Figure Seller Summit – an online event that was voted favorite amazon conference two years in a row in seller poll.  
#3 – Scaling an Amazon FBA Business from $144K to $1M: Best Practices in Capital, Cashflow, and Funding
Don Henig from AccrueMe provided valuable training on scaling an Amazon FBA Business from $144K to $1M: Best Practices in Capital, Cashflow, and Funding. Important points such as the biggest mistake made by sellers when scaling, vital factor in financing your growth, and establishing a company vision were tackled.
#2 – "The 3 Pillars of Profitability in Ecommerce" Live Training with Gary Huang
In this live webinar, Gary unraveled the 3 pillars of profitability. Each pillar aims to assist sellers in how to offset high shipping costs, warehouse costs, and rising material costs; have more budget to spend on PPC to beat your competitors; increase your bottom line EBITDA and maximize a potential exit; and maximize business strength in 2022 as the competition increases.
#1 – [Sourcing Masterclass] Negotiating Your Way to Success When Sourcing From India
This live Masterclass with Margaret Jolly and Meghla Bhardwaj, Co-Founders of India Sourcing Network, shared strategies for negotiating with Indian manufacturers to learn. They also touch down on proven negotiation strategies, negotiating timing, other things to deal with apart from price, cultural sensitivities, and common mistakes to avoid that could cost you time and money.
In case you missed it
Have a great weekend
Gary
Amazon uses influencer relationships to bolster Prime Day sales
Image Credits: Pexels
Amazon has launched its Amazon Influencer Program with the belief that it would fuel the success of its upcoming Prime Day.
The program would leverage influencers to raise brand awareness and inform consumers about Prime Day deals and promos. Then, Amazon pays popular social media users to promote its goods on sites like Instagram, TikTok, and YouTube.
Recently, they organized some events that invited some influencers and gave them a sneak peek at the Prime Day deals. After reporting $3.8 billion in losses at the end of Q1 2022, Amazon's Prime Day sales event is becoming more and more crucial.
Takeaway: Will Amazon's last punch for Prime Day be an effective strategy? The move by Amazon to rely more heavily on influencers for Prime Day comes in this era of creator economy. So, it is up to the consumers to decide on which has more weight— their trust in the content creators or the recession that we are currently facing. 
Retailers, determined to bulls-eye e-commerce growth
Image Credits: Pexels
The pandemic placed e-commerce into the spotlight. The last two years of juggling through the restrictions have pressured retailers to increase their digital capabilities and efforts.
However, the digital paradigm shift in the retail industry is not enough. Being in the virtual realm will not suffice as there are a lot of other variables such as inventory and inflationary pressures that might erode the business's profitability. Retailers also fail to find their niche in this everchanging game.
Giant retailers are not an exception. Amazon, Target, and Walmart have been experiencing profit warnings and inventory pain points on their end.
46% of the respondents in the Publicis Sapient/Salesforce survey said that their e-commerce store is less profitable than their physical one, and 37% are hitting below profit target.
To address all these dilemmas, Hilding Anderson, Head of Retail Strategy in Publicis Sapient, emphasized how vital customer service is in their research. Online shopping apps should integrate the ease of use and improvement of CX. In other words, e-commerce should make its decisions for the welfare of its customers. After such, profitability follows.
Takeaway: Putting your products available online to keep up with current demands is one thing, but improving your digital customer experience is another. It encourages first-time buyers to come back — you should not settle for one-time purchases only.
Amazon sellers to ditch mylar stash bags
Image Credits: Innovative Sourcing
In their recent announcement, Amazon is giving their sellers until August 5 to eliminate all single-colored and opaque Mylar bags.
Mylar bags are included in the compliance checklist for drug and controlled substances associated products posted by Amazon's drugs and drug paraphernalia help page. The page states, "Products must not be primarily used for making, preparing, or using a controlled substance."
According to the users of this container, Mylar bags are one of the best ways to store and conceal illegal drugs due to their smell-proof nature.
Amazon's advice for sellers: "If you use Fulfillment by Amazon (FBA) and have any remaining inventory of Mylar bags that are not clear or single-colored in Amazon fulfillment centers on or after August 5, 2022, these ASINs will be removed from the Amazon store. You must initiate a removal request within 30 days of receiving this notice to have your inventory sent to a location of your choice."
Takeaway: Amazon Sellers, to know more about this new regulation you can see the full announcement on Amazon Seller Central.
In case you missed it:
Have a great weekend!
-Gary
Amazon Prime Day is losing its sizzle
Image Credits: KSL NewsRadio
Is Amazon Prime Day really losing its hype? As of now, Amazon has not revealed specific details about their Prime Day Amazon sales performance, but according to Insider Intelligence, it is anticipated to increase by 17% YoY to $7.8B.
According to the Wall Street Journal, Amazon Prime Day's blockbuster is not the same as before. Prime Day's sales growth is declining as Amazon no longer invests in exclusive product launches and partners with celebrities to host the Prime Day concert.
However, the truth behind the success of this year's Prime Day is still unknown. While many speculations say that the event is losing its fire, Amazon discussed with WSJ that it is still a success.
Takeaway: Is Prime Day 2022 a flop? If yes, then the slowed increase in sales for the shopping event may be due to the current problems that retailers face: high inflation, changing consumer patterns, and cost reductions.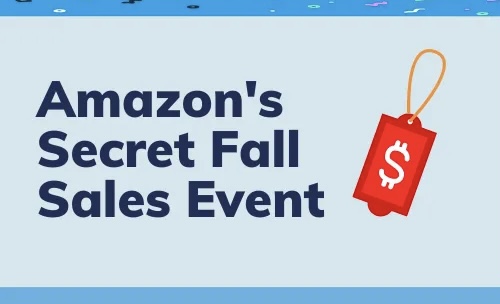 Image Credits: Envision Horizons
The CNCB announced on their latest news article that the 2nd Prime Day will be on the 4th quarter of this year. Many sellers think the reason for this event is for Amazon to recreate its success during the October Prime Day in 2020.
If you try to take a look at the lightning deals present at the top most of your account, you will notice a blurb indicating to submit the second Fall Prime Day. Amazon's deadline for deals submission is on July 22nd.
On one hand, sellers and third-party merchants are starting to grow their frustrations due to lack of information. The short notice on the submission of lightning deals even disappoint them.
Takeaway: The event is rumored to happened second week of October. Sellers and merchants have a lot of preparations to do in the two remaining quarters of the year. They should ensure that they have enough inventory, revamped product listings, create competitive deals, and drive traffic not only for the Prime Day 2.0 but also for the subsequent events such as the Black Friday and Cyber Monday.
Sponsored Display product targeting has evolved
Example of where a Sponsored Display ad placement may be displayed off Amazon Image Credits: Amazon
Amazon will replace the product targeting used in Sponsored Display with contextual targeting. This will enable advertisers to reach more customers both within and outside of the Amazon shop.
There is no need to change anything. Advertisers do not need to alter the items or categories they are targeting to use the new functionality. Sponsored Display will locate the best possibilities to extend advertising reach to websites and mobile apps in addition to stores.
Previously, these campaigns would only appear on the Amazon store's product pages. Now, Amazon's machine learning will help their registered sellers drive additional reach and opportunity beyond Amazon while still observing the bidding strategies and objectives.
Takeaway: This change is important for sellers and merchants. It aims to help them reach their audience even more as well as drive awareness regarding their product offering.
[Video Replay] How to Avoid the 3 Common Pitfalls When Selling your Business
The summer of 2021 was the pinnacle of the marketplace before it slowed down. Does this mean the end of selling your Amazon FBA business?
If you are one of the many eCommerce owners who want to sell their businesses today to scale and achieve financial goals, then you should know the right strategies to market your business at a top dollar. We recommend you watch this highly valuable live training about "The 3 Pitfalls you should Avoid When Selling Your Business" Chris Wozniak from Quiet Light gave to our audience
In this 60 min live training, Chris Wozniak, a Certified Mergers & Acquisitions Professional at Quiet Light will walk you through strategies to maximize your exit and learn about:
[2:50] Summer of 2021 was the pinnacle of the marketplace before it slowed down [3:20] Sellers still want to sell and buyers still want to buy even if we go into recessionary period [4:35] Businesses netting at $500,000 SDE (seller's discretionary earnings) and with positive trends can still get a good multiple at 3.5-4x [07:30] Different levels of addbacks (from health insurance, payroll taxes, to other variables) [9:35] Raising prices for 3 months without change can retroactively add back to your business [11:00] The steps you take before you sell [12:07] Forecast the next 2 to 3 years and firm up tax returns if you desire to sell [15:40] Why you shouldn't run your business like you're going to sell and what you should do [19:20] Pretend like you're not selling and focus on maintenance, growth, and critical timing
make sure you're irreplaceable
[24:30] Is it still important to have VA's running everything or can the business be bought with me running things and I stay on getting a percentage? [24:45] When buyers get online businesses they are attracted to far less hours owner works weekly [28:00] Buyers must trust their advisors because they have the responsibility to represent you [29:10] Advisors have the qualifications, experience, and capacity to represent both buyers and sellers [39:33] What % profit margin should be my target to sell my business at a decent price? It is currently only around 10% and I would like to get an idea how far off the mark I am for selling. [40:00] Rule of thumb: The higher your margin, the higher your valuation [49:10] What is the most important step to sell my business on Amazon FBM? [49:39] Doing self fulfilling business becomes less attractive to more buyers – having a good 3PL to use that's cost-efficient can help [53:30] Learn more about how you can sell your business and its valuation here:
https://quietlight.com/advisors/chris-wozniak/
If you'd like to learn more about what your business valuation could be and what steps to take to prepare for an edit (even if you're not ready right now) I recommend you book a call with Chris. https://quietlight.com/advisors/chris-wozniak/
Watch my session at SellerFest Online to learn about the Amazon Sourcing Algorithm
Earlier this week, I took part at the Seller Fest Online organized by Orange Klik where I talked about sourcing for Amazon from different destinations and what are the things to know when it comes to sourcing from a specific country. You can watch the replay here.
Seller Fest Online, featuring 30+ Amazon experts, runs until Friday (July 1st) and you can still make it to the rest of the sessions. Learn more about the upcoming live sessions here and get your free access now!"
7 Figure Seller Summit 7 Aug 22-26, 2022 – Call for Sponsorship
We are excited to plan the 7 Figure Seller Summit this August, and there are a few sponsorship opportunities that some of you may be interested in.
If you're purely a seller not interested in sponsoring, pls disregard this email. If you missed the last 7 Figure Seller Summit, the good news is you can get a free pass for a limited time here.
If you are interested in sponsoring, or if you know someone who is interested – please fill out this form to learn more: https://bit.ly/3I4SE8Z
Thanks!
In case you missed it:
Have a great weekend!
-Gary