SORRY, AI FOR AMAZON SELLERS 28 DAY CHALLENGE HAS CLOSED
If you'd like to be added to the waiting list, enter your information below and you'll be the first to know when we open more seats.
Learn the little known "AI FLOWS" that Amazon Sellers and Ecommerce Sellers" are using right now to grow sales, save time, and maximize profits
Join the FIRST EVER 'AI for Amazon Sellers 28 Day Challenge' today…
Grow and scale your ecom business using ChatGPT, Bing AI, Midjourney, and more of the latest AI technologies
Save upto 15 hours a week and get more done (with less effort) leveraging AI FLOWS
Increase your profits use little known AI powered strategies to use to reduce your COGS, cut your costs, and boost your bottom line.
More than just prompts – you will learn How to Actually Talk to an AI to get the results you want
Daily Reminders – to keep you accountable during the challenge
3 Free Bonuses ($149 value)

'10 Commandments of AI'
'7 Deadly Sins of AI'
'Ultimate Guide to Negotiating with your Supplier'
Join the challenge now for a discounted payment of only $128 $29
Brought to you by 7 Figure Seller Summit

What is the AI for Amazon Sellers Challenge?
A 28 Day sprint to learn how to use AI FLOWS effectively in your Amazon and Ecom business to:
1) Grow their businesses
2) Save time
3) Increase their profits
Here's how it works
Each day you will receive an email with a single AI strategy designed to grow your business.
You will learn how to use "AI FLOWS" to maximize the results that AI will spit out… and avoid Hallucinations and crap copy that is irrelevant to your business
In the daily email you will receive a specific assignment to implement this into your business using AI
Tools you will need:
A computer and internet connection
ChatGPT and or Bing AI
You should be running an Amazon or Ecommerce business with the basic know-how of how to do keyword research and Amazon SEO.
By the end of the end of the challenge you will…
Understand how AI can be used to optimize Amazon listings and drive more traffic to their products.
Smoothly use AI to Save time so you can focus on the things that move the needle in your business
Increase your product listing conversion rates with the AI optimized copy
Overcome Analysis Paralysis to get more stuff done.
Cut your product costs via negotiations with your supplier
Optimize your packaging and cut your shipping costs
Effortlessly use AI tools to Create a marketing emails, social media, and blog posts
And much more
Techniques to improve product ranking, including keyword optimization, image optimization, and product description optimization.
AI and Chat-GPT is a once in a generation SHIFT – will you PIVOT to ride the AI wave or will you be left behind?
Every generation, a groundbreaking innovation comes along that completely changes the game, like the invention of the web browser, the computer, or even fire.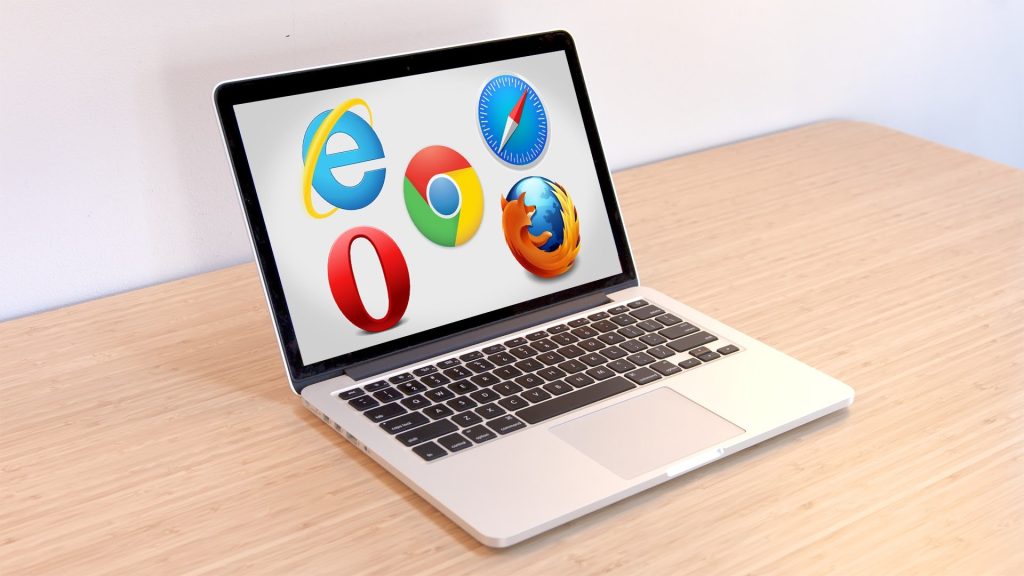 During the '90s, massive companies such as Yahoo, Myspace, and Nokia failed to adapt to the digital revolution and slowly faded into obscurity, while others like Google, Facebook, Apple, and Amazon became industry giants.
Wharton Business School Professor Ethan Mollick describes our current situation perfectly:
"At this point, it's the most uncertain time… we've ever lived through in terms of technology (with the rise of AI)."
In just a few short years, we've witnessed not one but TWO monumental opportunities in ecommerce:
1) 2020-2021: Covid accelerated ecommerce growth by 30% yearly and many brands skyrocketed on this opportunity to new levels.
2) NOW – Rapid growth opportunities using generative AI tools like ChatGPT.
Many sellers have started harnessing the power of AI in their ecommerce businesses and are already reaping the benefits.
Here are some examples
SALES: 7 Figure Seller and serial entrepreneur Chad Rubin increased the conversion rate on one of his Amazon SKUs by 20% using ChatGPT to generate catchy headlines for an infographic promoting his vacuum cleaner hose. The result?
"Dirt Destroying Air Flow" was the winning headline generated by AI which boosted conversion rate from 26% to 46% over eight weeks.
COPYWRITING: Creating Amazon listings in seconds – "It does it with the tone you suggest, and it does it in seconds," Hamza Amor said. "That's the part that was mind-blowing."  
If you've been putting off optimizing your listings, AI can help you optimize them with the right keyword to boost your ranking up to the top of the Amazon sales page.  
Not only that it can help you create blog posts, email sequences, customer service replies, warn hijackers off your listings, help you deal with Seller Central support cases, and even help generate social media posts in seconds.  
It's literally like you are working together with a powerful robot assistant to amplify your results.
Now assisted by AI, one person can do the work of many…
"Human-Machine Hybrid" work is now a real possibility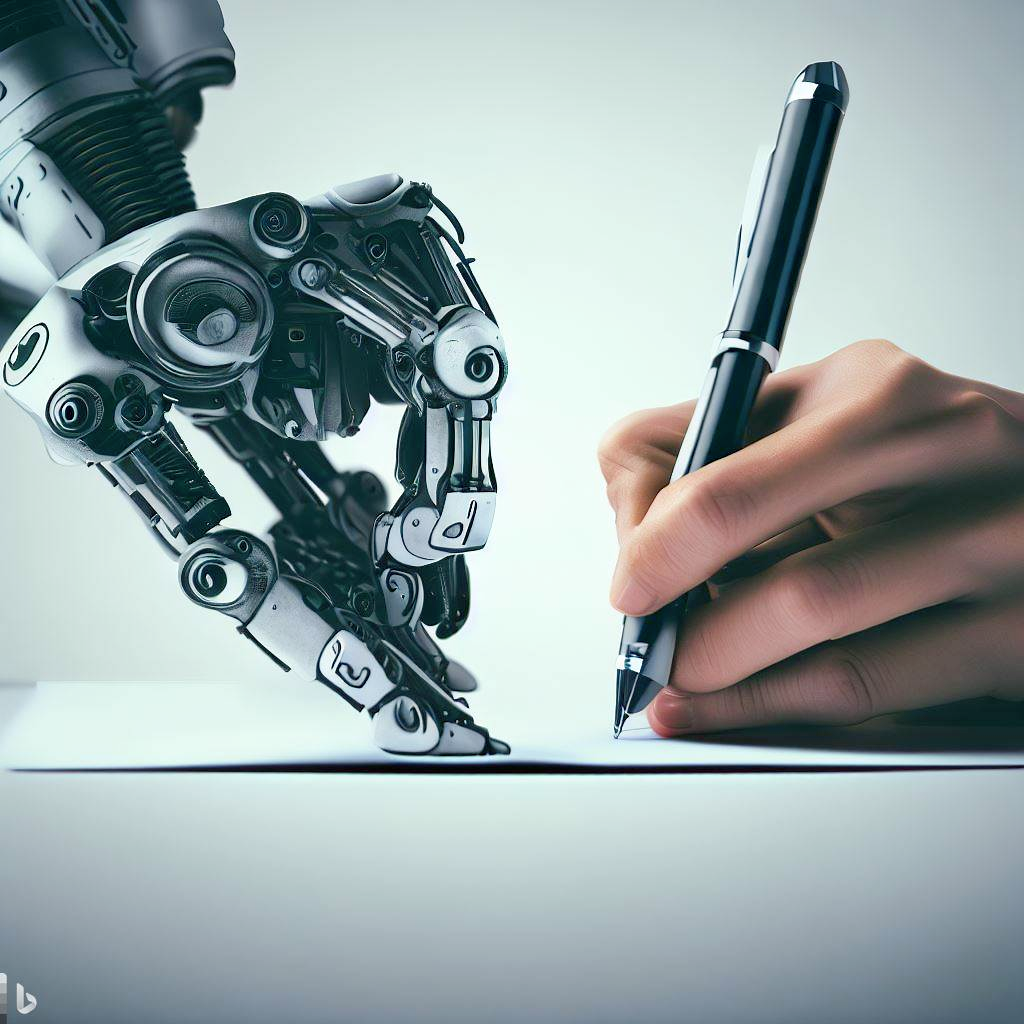 Besides AI getting smarter, we are seeing massive increases in quality and speed.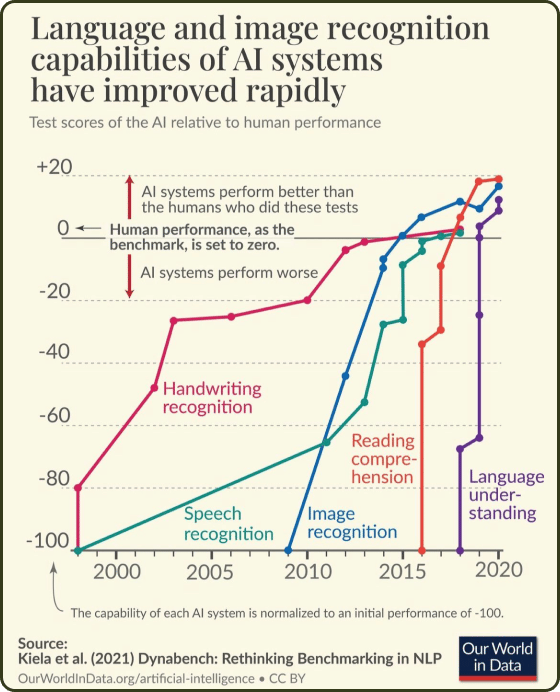 According to a recent study AI has surpassed human intelligence in the following test scores
Language Understanding
Reading Comprehension
Speech Recognition
Handwriting recognition
What does this mean?
According to a Harvard Business Review article:
"The businesses that understand the significance of this change — and act on it first — will be at a considerable advantage." – Harvard Business Review
THIS IS A HUGE OPPORTUNITY for sellers to take a GIANT STEP ahead in their ecommerce business.
But at the same time there is a…Hidden Secret…
Why ChatGPT & AI Might Not Be Working for You
Did you know when I first tried ChatGPT, I wasn't impressed.
I thought it was all about having the right prompts.
So, I bought an "Ultimate Prompt List" and gave it a shot.
But the listing copy was just… meh.
B- level, at best.
It wasn't finding the right keywords for me…
I thought – is that all there is to ChatGPT? All hype?
Then I did some research.
Turns out, 99% of people use ChatGPT the wrong way.
Most believe using the right prompt gets the right answer.
Not true.
There are many cons to ChatGPT
AI is prone to hallucinations.
You can't take it AS IS. You have to fact-check everything.
ChatGPT's knowledge? Stuck in 2021.
It's clueless about current trends and what's happening right now.
If you have a product listing that is NEW and created after 2021, ChatGPT will know nothing about it.
And there's a big risk that many people are now aware of.
Sharing confidential info with AI is a no-go.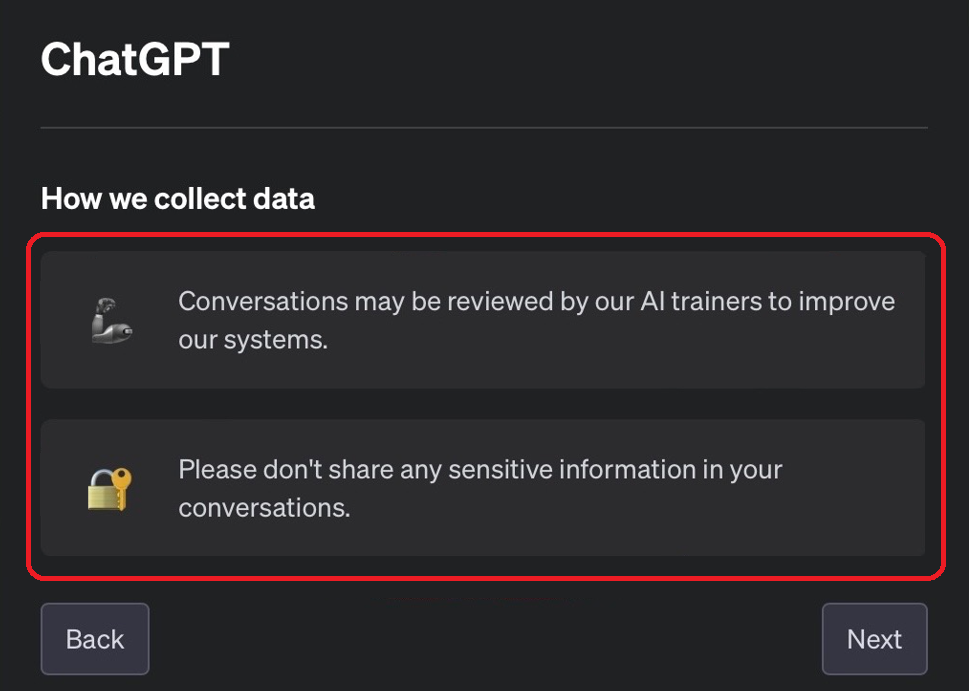 OpenAI uses your data for training.
Your "secret sauce" could be exposed.
Amazon? They forbid employees from using ChatGPT.
JP Morgan Chase? Same deal (though some might sneak it on their phones).
So I dove deep. 100+ hours of research, experimentation, and conversations with tech-savvy friends like the ones at Google.
And I finally cracked the code.
I learned how to use AI to:
Grow and Scale my Ecom business
Save time from mundane work
Increase profits in my business
AI helped me de-bottleneck my business and move forward.
Don't be fooled – It's not about Prompts – it's about FLOWS
The key to unlocking the full potential of AI and ChatGPT isn't just about prompts. That's barely scratching the surface.
The real magic comes from creating the right AI FLOWS.
It's all about guiding the AI through back-and-forth conversations to get the results you want.
And I've developed this 28-Day Challenge to help you master just that.
Here's a "Sneak Peek" of what you'll do in the AI for Amazon Sellers 28 Day Challenge
Use AI to QUICKLY Optimize your listings and create new ones while boosting conversion rates up to 20%
Weave the right Keywords throughout your listings to boost your Amazon SEO and Rank
Product Images – leverage AI to generate an endless supply of amazing product and lifestyle images
Product Development – Discover new product opportunities for bundles, new SKUs, and cross-selling to increase your Lifetime Value of your customers
Competitor Analysis – Pinpoint the biggest weaknesses of your competitors and gaps in the market so you attack and dominate
Product Insert Card Offers – to get more reviews (TOS compliant), build an audience, and sell more
Quickly Brainstorm Dozens of Brand names that are memorable and standout
Identify your Customer Avatar so you know exactly what products you should develop that they will buy and how to market to them
Write blog posts to create content related to your product to increase your organic SEO
Quickly repurpose them to create social media content on Instagram, Facebook, Tiktok, Twitter, and more
Create Youtube scripts for product videos
Find top influencers in your niche that are willing to promote your product in seconds
Create outreach emails or messages to influencers to persuade them to WANT to work with you
Effortlessly respond to Customer Service complaints while delivering a 5 star experience
Translate info to different languages
Brainstorm new Product Designs to outpace your competition, deliver more value to your customers, and
Discover all the ways that people use your product so you can identify more keywords and ways to market it
Write negotiation letters to lowerer product costs, request better payment terms, packaging, and more
PRACTICE NEGOTIATION SCENARIOS with AI so you feel more comfortable doing the real thing
Get Hijackers off your listings by using GPT to write a letter to Amazon Seller Support
Generate HTML Code, Excel formulas, and more without having to know how to code
Get ideas to optimize product packaging to reduce the size, lower shipping costs, and COGS
Discover hidden ways to use different materials in your products to lower product costs
Scale your business from 100k to $1million +
Think outside the box to find strategies to raise profit margins by 5-10%
And much more is being added by the day…
This is for you if…
You are an ACTION TAKER
You are a 6, 7, or 8 Figure Amazon seller who wants to grow their business
You are starting up your Amazon or ecom business within the next 28 days.
You want an UNFAIR advantage using AI that your competitors don't know about yet
You want to spend less time on the mundane tasks of your ecommerce business and more time on the tasks that MOVE THE NEEDLE by leveraging AI
You have an open mind to learn and sometimes "Hit the wall". When that happens you will agree to dust yourself off and try it again a different way.
DON'T want to waste time sifting through hours of youtube videos, endless TikToks, and Facebook groups looking for the latest AI hacks – you will get all of them in 28 days
This is NOT for you if..
If you only consume the content every day of the challenge but not take any action.
That's entirely up to you but.. Nothing will change in your business.
If that's what you will do, then this challenge is NOT for you.
You don't have access to ChatGPT
You don't plan to run an e-commerce business.
You don't have time to read the daily training email and do the homework (15-20 min per day)
Only  $128  $29
30 Day Money Back Guarantee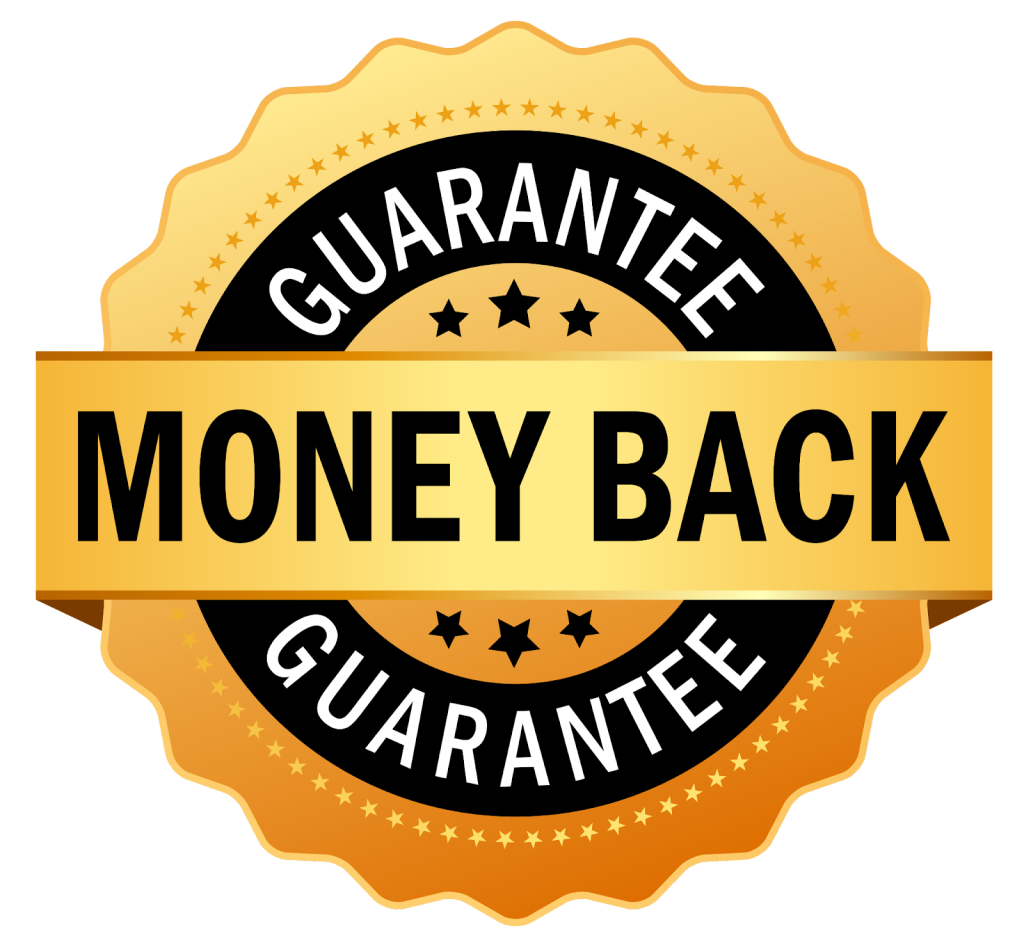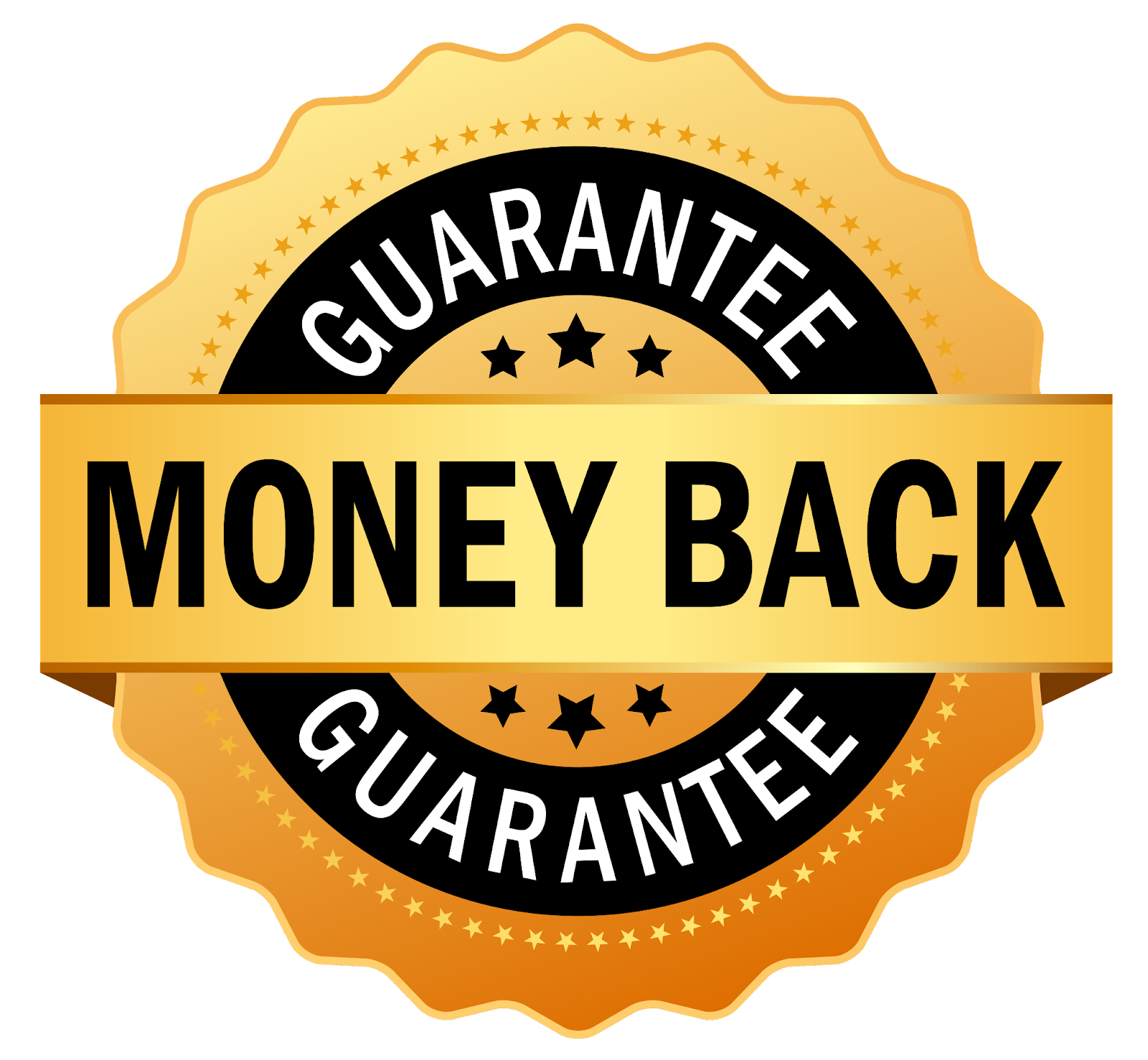 Try it at NO RISK to you. You can take the entire challenge and if you show me that you did the work and did not get at least 10x ROI I will give you your money back! I'm so confident this will work for your business that I'm putting my money where my mouth is.
LIMITED TIME OFFER: Just $1 a day to grow your Amazon business using AI.
If you were to hire a consultant to walk you through 28 ways to grow your Amazon business, save time and increase profits, you would easily have to spend over $1,000.
I believe that AI is the next big thing in our industry and I created this challenge at an affordable price so I didn't want MONEY to be an obstacle.
But at the same time, it's important that you have some skin in the game. Studies have shown that people are drastically more likely to follow through on a task if they have shown a commitment towards it. Especially if money is at stake.
Why should I attend?
Want to sell into the 4th largest Amazon marketplace that virtually nobody is talking about?
There's no need to spend months figuring this out – over 2 days, you will learn the exact steps to launch and sell your products on Amazon Japan.
What will I learn?
The complete turnkey solution to sell into Amazon Japan
Launch strategies that are unique to Japan (throw out your US/EU launch playbook)
External marketing strategies native to Japan (beyond PPC)
Make all the connections you need to sell into Amazon Japan – Importer of record, warehousing, accountants, trademark agencies, translators, and more
The A to Z of How to sell into Amazon Japan even if you don't speak any Japanese
The exact requirements for your product to be imported into the countries
The most common mistakes sellers make when selling into Japan (Japan is not US or EU)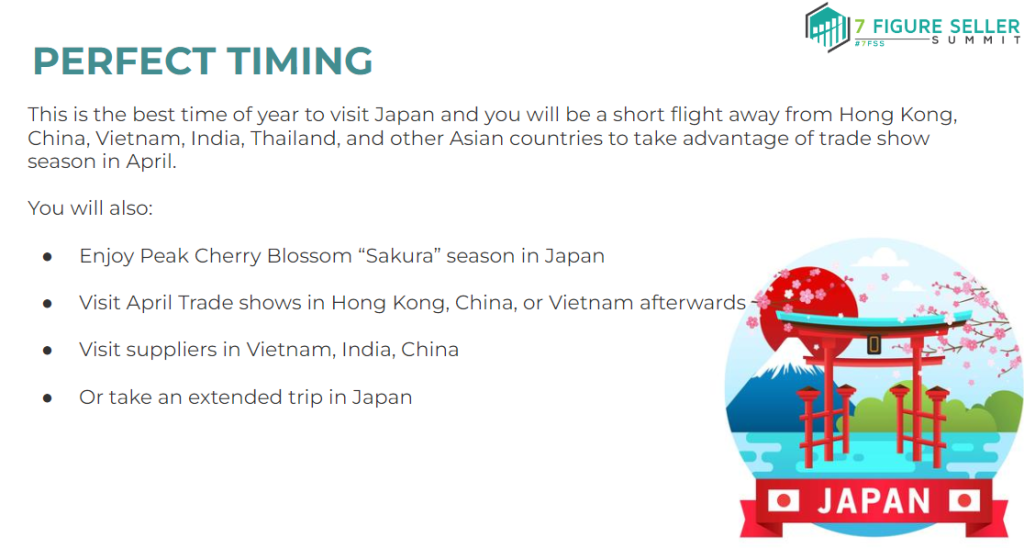 Even if right now you know nothing about selling in Japan, you will have everything you need to sell in Japan at the Amazon Japan Mastermind.
And you will have the right connections.
You will be able to execute and sell into Japan in weeks.
And you will meet real sellers and mastermind with them to grow your business to the next level.
If you have any questions at all, we will answer all your questions and we will leave no stone unturned.
Who's it for?
Amazon and eCommerce sellers that want to sell into Amazon Japan (the 4th largest Amazon marketplace in the world – that nobody is talking about)
So we're going to offer them everything they need to successfully sell on Amazon Japan
You will learn from:
7 figure sellers selling in Amazon Japan
Importers of records so you can legally import products into Japan
Warehousing and logistics providers
PPC Experts
Accountants
Lab testing providers to make sure your products can be legally sold in Japan
Inspection Agencies
We will have all of the steps you'll need from A to Z to just start selling in Japan
Expected turnout: Limited to 100 sellers – first come, first served.
Location: Tokyo, Japan – Easy to fly into and transit to other parts of Asia
Venue: TBD – Coming Soon

10 Reasons Why You Should Start Selling in Japan N-O-W
1. Japan is the 4th biggest Amazon place in the world.
2. There's far less competition with Amazon Japan than with the other large Amazon marketplaces
3. LOWER PPC COST
4. You don't need to know Japanese to sell in Japan. Seller Central is in English and you can hire Japanese support
5. Lower shipping cost and faster shipping time from the Asia factory back to Japan
6. Amazon FBA works quickly in Japan
7. The market size is much larger. There are about 140 million people in Japan, and 80% of them shop online
8. You don't need to register a company in Japan to sell in Japan, you just need Japanese importer records and make sure products are compliant which we will make sure you do.
9. There are unique marketing channels in japan that you can use to build an audience and make a lot of sales at a low cost.
10. If you are already selling in the Amazon US/EU marketplaces you may have an advantage selling in Japan using your products.
If you position and market your products the right way, you can generate an additional 200k – 500k USD revenue per year.
FAQ
1. Do I need a visa for Japan?
No. Japan offers visa-free access to over sixty-eight countries. Check here for details.
2. Is Japan super expensive?
No. The costs to sell and ship products into Japan will be about the same as selling in other marketplaces around the world.
The shipping costs could be lower and the speed faster if you are sourcing your products from China or Asian countries.
Japan is a lot closer to these manufacturing regions and you can get them there in weeks rather than months.
This allows you to turn over your inventory faster to save you time and money and free up your cash flow from having to order months and months of inventory than if you were shipping products to the US or EU from Asia.
Moreover, the Japanese Yen is at a 30-year low against the US Dollar. This means that things in Japan will feel cheaper than before.
Couple that with the fact that Japan has been in a long period of stagnation and prices have not risen significantly.
This means that Japan may not be as "expensive" to do business in as you think!
3. How much should I budget for an event like this?
What is $3k vs $300k you could sell in Japan?
4. How much should I budget for a hotel?
Hotels range from $150-200 per night, food will be provided – breakfast, lunch, and coffee
Our event will be held in Tokyo and we will have discounted prices.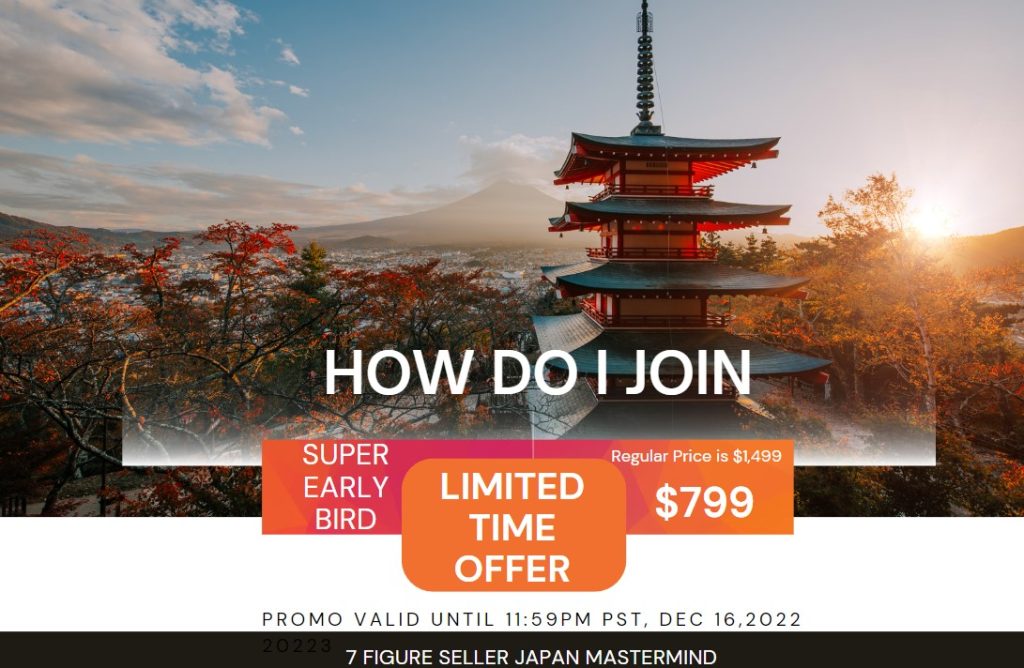 GET YOUR PASS NOW
7 Figure Seller Japan Mastermind – Tokyo, 2-days (April 4 – 5, 2023)
Rumors on Prime Day slump, not true?
Image credits: eStore Factory
This Prime Day, consumers are growing to be practical.They are prioritizing necessities over indulgences, yet they are still spending more than expected.
Purchase data findings show that the average Prime Day 2022 spend per order is $53.14 compared to last year's $47.14. So far, 42% of orders have been for $20 or less, while 13% have been for $100 or more.
Amazon has geared its attention toward attracting bargain hunters searching for affordable pantry stocks and low-priced electronics. A report from Numerator recorded last Tuesday that there was an increase of 20% in the typical household spending since the previous June sale. The best-seller in the early hours was a Frito-Lay variety pack of snack chips.
Furthermore, the report said that 83% of Prime Day buyers consider inflation as the primary variable affecting their purchasing behavior.
Yet there is another product category experiencing a profit increase. Branded items generate a big chunk of Amazon's annual sales and have increased by 30% during Prime Day despite offering lesser discounts. It has outstripped the single-digit growth expectation.
Sellers experienced a sales surge hours after the launching of the event. According to Channel Key e-commerce consulting firm, their clients experience a 12% spike in sales in the first six hours of Prime Day compared to the previous year.
Takeaway: What probably made Amazon Prime Day 2022 a hit? Forbes reported on July 13, Thursday that aside from flooding consumers with organic and paid campaigns on social media, Amazon affiliate program appeared to be effective. Influencers and news outlets alike curate offers and goods in exchange for an affiliate commission on any sales made as a result of their promotion.
E-commerce inflation increased by 0.3% YoY but fell by 1% MoM in June
Image Credits: EcomCrew
According to the Adobe Digital Price Index report, online grocery prices continue to increase despite inflation falling. In June, grocery prices rose by a record 12.4 percent year over year, setting a new high. This gain comes after earlier record-breaking year-over-year increases of 7.6% in February, 9% in March, 10.3% in April, and 11.34% in May.
As a consequence, e-commerce spending appears to be declining more in June ($74.1 billion) as compared to what was recorded in April ($77.8 billion) and May ($78.8 billion).
Adobe Commerce survey released recently revealed that 61% of consumers were waiting for Prime Day sales to avail of promos and deals. Some even plan to make their most significant purchases at this event. They say they would maintain their previous year's expense limit or would spend more.
The first day of Amazon Prime Day revealed that inflation and the downward sloping economy will impact the sales this year. Americans spent $4.7 billion less in June than the previous month.
Takeaway: The ecommerce inflation has reshaped Amazon Prime Day, especially consumer behavior. Even though Prime members are willing to spend more than they spent last year, they are still willing to give up a good deal for the reason that the product is not a necessity.
Report: E-commerce sales to exceed $1 trillion this year
Image Credits: Vapulus
FTI Consulting projects that in 2022, online retail sales will reach $1.07 trillion, surpassing its pre-pandemic prediction of 2025, partly due to growth brought on by the pandemic. Online retail sales outside the car and gas industries will reach 22.1 percent by 2022, up from 20.8 percent in 2021 and 15.2 percent in 2019.
The report further says that e-commerce sales will reach $2 trillion by 2030 and account for 31% of total sales by the decade's end.
According to a 2021 Forester report, even though eCommerce has already established its pillars in the retail industry, physical stores remain significant, and three-fourths of the retail sales in the US will still occur in person.
A poll of international retail leaders Ipsos for Publicis Sapient and Salesforce found that 44 percent of online-only merchants were not profitable, compared to 20 percent of brick-and-mortar stores that reported the same. Operating an online-only business is still difficult.
Takeaway: Online shopping in this past 2 years was driven by necessity due to Covid-19 restrictions. FTI Consulting said that ecommerce spending in the 2nd half of 2022 will modulate as the pandemic cools down and the inflation rises.
7 Figure Seller Summit Pre-Event Survey – Vote now!
I'm building out the 7 Figure Seller Summit 7 and would love it if you could spend 5 min to fill out this short survey so I can learn about your challenges and goals for the remainder of 2022.
I would appreciate your honest feedback as this will help us create the best Amazon conference for you!
5 min survey: https://forms.gle/sbn4KZaxz4xpsnjg7
Thank you so much!
7FSS Top 5 Youtube Videos for 1H 2022
Have you checked out our Youtube channel yet? For the first half of the year, we were able to invite awesome guests and experts who have shared a lot of tips and value.
Here is the list of top 5 videos on the 7FSS Youtube channel for this year:
#5 – Amazon Profitability MASTERCLASS: How to Know your Numbers and Turn Around Declining Sales
Gary invited Marc Jepsen from ManageByStats to share how you can know your actual profits so you can SCALE and prevent your sales from decreasing over time. This conversation has helped sellers know their numbers as they run their Amazon business,
#4 – I interviewed 153 7 Figure Sellers, Here's what I learned
In this video, Gary discussed one-by-one his key takeaways after he interviewed 153 – 7 figure sellers and ecom experts after hosting the 7 Figure Seller Summit – an online event that was voted favorite amazon conference two years in a row in seller poll.  
#3 – Scaling an Amazon FBA Business from $144K to $1M: Best Practices in Capital, Cashflow, and Funding
Don Henig from AccrueMe provided valuable training on scaling an Amazon FBA Business from $144K to $1M: Best Practices in Capital, Cashflow, and Funding. Important points such as the biggest mistake made by sellers when scaling, vital factor in financing your growth, and establishing a company vision were tackled.
#2 – "The 3 Pillars of Profitability in Ecommerce" Live Training with Gary Huang
In this live webinar, Gary unraveled the 3 pillars of profitability. Each pillar aims to assist sellers in how to offset high shipping costs, warehouse costs, and rising material costs; have more budget to spend on PPC to beat your competitors; increase your bottom line EBITDA and maximize a potential exit; and maximize business strength in 2022 as the competition increases.
#1 – [Sourcing Masterclass] Negotiating Your Way to Success When Sourcing From India
This live Masterclass with Margaret Jolly and Meghla Bhardwaj, Co-Founders of India Sourcing Network, shared strategies for negotiating with Indian manufacturers to learn. They also touch down on proven negotiation strategies, negotiating timing, other things to deal with apart from price, cultural sensitivities, and common mistakes to avoid that could cost you time and money.
In case you missed it
Have a great weekend
Gary
Amazon uses influencer relationships to bolster Prime Day sales
Image Credits: Pexels
Amazon has launched its Amazon Influencer Program with the belief that it would fuel the success of its upcoming Prime Day.
The program would leverage influencers to raise brand awareness and inform consumers about Prime Day deals and promos. Then, Amazon pays popular social media users to promote its goods on sites like Instagram, TikTok, and YouTube.
Recently, they organized some events that invited some influencers and gave them a sneak peek at the Prime Day deals. After reporting $3.8 billion in losses at the end of Q1 2022, Amazon's Prime Day sales event is becoming more and more crucial.
Takeaway: Will Amazon's last punch for Prime Day be an effective strategy? The move by Amazon to rely more heavily on influencers for Prime Day comes in this era of creator economy. So, it is up to the consumers to decide on which has more weight— their trust in the content creators or the recession that we are currently facing. 
Retailers, determined to bulls-eye e-commerce growth
Image Credits: Pexels
The pandemic placed e-commerce into the spotlight. The last two years of juggling through the restrictions have pressured retailers to increase their digital capabilities and efforts.
However, the digital paradigm shift in the retail industry is not enough. Being in the virtual realm will not suffice as there are a lot of other variables such as inventory and inflationary pressures that might erode the business's profitability. Retailers also fail to find their niche in this everchanging game.
Giant retailers are not an exception. Amazon, Target, and Walmart have been experiencing profit warnings and inventory pain points on their end.
46% of the respondents in the Publicis Sapient/Salesforce survey said that their e-commerce store is less profitable than their physical one, and 37% are hitting below profit target.
To address all these dilemmas, Hilding Anderson, Head of Retail Strategy in Publicis Sapient, emphasized how vital customer service is in their research. Online shopping apps should integrate the ease of use and improvement of CX. In other words, e-commerce should make its decisions for the welfare of its customers. After such, profitability follows.
Takeaway: Putting your products available online to keep up with current demands is one thing, but improving your digital customer experience is another. It encourages first-time buyers to come back — you should not settle for one-time purchases only.
Amazon sellers to ditch mylar stash bags
Image Credits: Innovative Sourcing
In their recent announcement, Amazon is giving their sellers until August 5 to eliminate all single-colored and opaque Mylar bags.
Mylar bags are included in the compliance checklist for drug and controlled substances associated products posted by Amazon's drugs and drug paraphernalia help page. The page states, "Products must not be primarily used for making, preparing, or using a controlled substance."
According to the users of this container, Mylar bags are one of the best ways to store and conceal illegal drugs due to their smell-proof nature.
Amazon's advice for sellers: "If you use Fulfillment by Amazon (FBA) and have any remaining inventory of Mylar bags that are not clear or single-colored in Amazon fulfillment centers on or after August 5, 2022, these ASINs will be removed from the Amazon store. You must initiate a removal request within 30 days of receiving this notice to have your inventory sent to a location of your choice."
Takeaway: Amazon Sellers, to know more about this new regulation you can see the full announcement on Amazon Seller Central.
In case you missed it:
Have a great weekend!
-Gary
Amazon Prime Day is losing its sizzle
Image Credits: KSL NewsRadio
Is Amazon Prime Day really losing its hype? As of now, Amazon has not revealed specific details about their Prime Day Amazon sales performance, but according to Insider Intelligence, it is anticipated to increase by 17% YoY to $7.8B.
According to the Wall Street Journal, Amazon Prime Day's blockbuster is not the same as before. Prime Day's sales growth is declining as Amazon no longer invests in exclusive product launches and partners with celebrities to host the Prime Day concert.
However, the truth behind the success of this year's Prime Day is still unknown. While many speculations say that the event is losing its fire, Amazon discussed with WSJ that it is still a success.
Takeaway: Is Prime Day 2022 a flop? If yes, then the slowed increase in sales for the shopping event may be due to the current problems that retailers face: high inflation, changing consumer patterns, and cost reductions.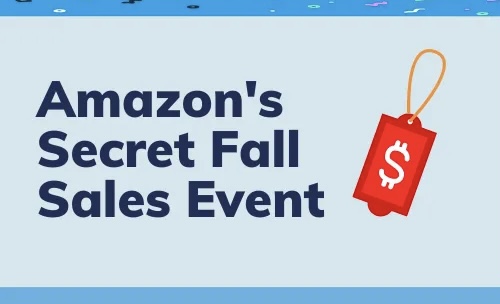 Image Credits: Envision Horizons
The CNCB announced on their latest news article that the 2nd Prime Day will be on the 4th quarter of this year. Many sellers think the reason for this event is for Amazon to recreate its success during the October Prime Day in 2020.
If you try to take a look at the lightning deals present at the top most of your account, you will notice a blurb indicating to submit the second Fall Prime Day. Amazon's deadline for deals submission is on July 22nd.
On one hand, sellers and third-party merchants are starting to grow their frustrations due to lack of information. The short notice on the submission of lightning deals even disappoint them.
Takeaway: The event is rumored to happened second week of October. Sellers and merchants have a lot of preparations to do in the two remaining quarters of the year. They should ensure that they have enough inventory, revamped product listings, create competitive deals, and drive traffic not only for the Prime Day 2.0 but also for the subsequent events such as the Black Friday and Cyber Monday.
Sponsored Display product targeting has evolved
Example of where a Sponsored Display ad placement may be displayed off Amazon Image Credits: Amazon
Amazon will replace the product targeting used in Sponsored Display with contextual targeting. This will enable advertisers to reach more customers both within and outside of the Amazon shop.
There is no need to change anything. Advertisers do not need to alter the items or categories they are targeting to use the new functionality. Sponsored Display will locate the best possibilities to extend advertising reach to websites and mobile apps in addition to stores.
Previously, these campaigns would only appear on the Amazon store's product pages. Now, Amazon's machine learning will help their registered sellers drive additional reach and opportunity beyond Amazon while still observing the bidding strategies and objectives.
Takeaway: This change is important for sellers and merchants. It aims to help them reach their audience even more as well as drive awareness regarding their product offering.
[Video Replay] How to Avoid the 3 Common Pitfalls When Selling your Business
The summer of 2021 was the pinnacle of the marketplace before it slowed down. Does this mean the end of selling your Amazon FBA business?
If you are one of the many eCommerce owners who want to sell their businesses today to scale and achieve financial goals, then you should know the right strategies to market your business at a top dollar. We recommend you watch this highly valuable live training about "The 3 Pitfalls you should Avoid When Selling Your Business" Chris Wozniak from Quiet Light gave to our audience
In this 60 min live training, Chris Wozniak, a Certified Mergers & Acquisitions Professional at Quiet Light will walk you through strategies to maximize your exit and learn about:
[2:50] Summer of 2021 was the pinnacle of the marketplace before it slowed down [3:20] Sellers still want to sell and buyers still want to buy even if we go into recessionary period [4:35] Businesses netting at $500,000 SDE (seller's discretionary earnings) and with positive trends can still get a good multiple at 3.5-4x [07:30] Different levels of addbacks (from health insurance, payroll taxes, to other variables) [9:35] Raising prices for 3 months without change can retroactively add back to your business [11:00] The steps you take before you sell [12:07] Forecast the next 2 to 3 years and firm up tax returns if you desire to sell [15:40] Why you shouldn't run your business like you're going to sell and what you should do [19:20] Pretend like you're not selling and focus on maintenance, growth, and critical timing
make sure you're irreplaceable
[24:30] Is it still important to have VA's running everything or can the business be bought with me running things and I stay on getting a percentage? [24:45] When buyers get online businesses they are attracted to far less hours owner works weekly [28:00] Buyers must trust their advisors because they have the responsibility to represent you [29:10] Advisors have the qualifications, experience, and capacity to represent both buyers and sellers [39:33] What % profit margin should be my target to sell my business at a decent price? It is currently only around 10% and I would like to get an idea how far off the mark I am for selling. [40:00] Rule of thumb: The higher your margin, the higher your valuation [49:10] What is the most important step to sell my business on Amazon FBM? [49:39] Doing self fulfilling business becomes less attractive to more buyers – having a good 3PL to use that's cost-efficient can help [53:30] Learn more about how you can sell your business and its valuation here:
https://quietlight.com/advisors/chris-wozniak/
If you'd like to learn more about what your business valuation could be and what steps to take to prepare for an edit (even if you're not ready right now) I recommend you book a call with Chris. https://quietlight.com/advisors/chris-wozniak/
Watch my session at SellerFest Online to learn about the Amazon Sourcing Algorithm
Earlier this week, I took part at the Seller Fest Online organized by Orange Klik where I talked about sourcing for Amazon from different destinations and what are the things to know when it comes to sourcing from a specific country. You can watch the replay here.
Seller Fest Online, featuring 30+ Amazon experts, runs until Friday (July 1st) and you can still make it to the rest of the sessions. Learn more about the upcoming live sessions here and get your free access now!"
7 Figure Seller Summit 7 Aug 22-26, 2022 – Call for Sponsorship
We are excited to plan the 7 Figure Seller Summit this August, and there are a few sponsorship opportunities that some of you may be interested in.
If you're purely a seller not interested in sponsoring, pls disregard this email. If you missed the last 7 Figure Seller Summit, the good news is you can get a free pass for a limited time here.
If you are interested in sponsoring, or if you know someone who is interested – please fill out this form to learn more: https://bit.ly/3I4SE8Z
Thanks!
In case you missed it:
Have a great weekend!
-Gary
US Import demand dropping dramatically 36% YOY… Why?

Inventory glut – excess inventory
Inflation crunching US consumer purchasing
Container volumes from CN to US continue to decline
Image Credits: FreightWaves
According to FreightWaves, Inc, U.S import demand is dropping dramatically by 36% year on year from June 2022 from 2021 to 2022. This decrease happens due to some leading causes; the first is inventory collide. These retailers have excess inventory. Second, consumers are getting crunched due to inflation. Thirdly, this is causing container volumes from China to drop as well.
So, you see fewer imports into the U.S. The good thing is that this is benefiting the shipping price and that the shipping prices are starting to go down; the Freightos index is around $9,000 per container. However, this may be a sign that the economy is slowing down.
Image Credit: About Amazon
Amazon has already released dates for their Amazon Prime Day 2022. This will be a two-day savings event starting July 12 at 3 a.m. EDT until July 13, 2022. Prime Day is launched for Prime members in countries like Austria, Australia, Belgium, Brazil, Canada, China, France, Germany, Italy, Japan, Luxembourg, Mexico, the Netherlands, Portugal, Singapore, Spain, the U.K., the U.S., and for the first time in Poland and Sweden.
Early bargains begin on June 21, with up to 50% off particular Amazon gadgets, up to 50% off Fire TV, and more from popular brands like De'Longhi, Dove, and SodaStream. From June 21 to July 11, Prime members may win large prizes by supporting local companies.
The new Small Business Badge allows Prime members to find and browse products from small business companies in Amazon's marketplace. Members will be able to recognize products from small company brands and artisans with the help of this new badge.
Amazon's global transportation network will offer fast and free delivery of Prime Day orders.
Takeaway: Prime Day is less than a month away so make sure that you have enough inventory in-stock in your Amazon Fulfillment Centers. Also, do not forget to prepare your marketing campaigns.
Amazon drones are starting to fly for deliveries in California
Image credit: Amazon
Amazon plans to launch its drone delivery later this year in Lockeford, California. Residents will have access to sign up for a free "Prime Air" delivery.
These drones have the capacity to carry parcels weighing 5 pounds. Air eligible items include beauty, office supplies, tech gear, and household products.
Amazon claims to have developed a sophisticated technology that allows its drones to recognize and avoid obstacles such as airplanes, people, pets, and other people. According to them, they created their sense-and-avoid system for two critical scenarios: safety in transit and safety approaching the ground.
The drone service will be expanded based on feedback from the California operations.
Takeaway: Amazon's retail rival Walmart and other major tech firms are already incorporating drone delivery into their logistic operations. Amazon needs to keep up with the competition as the mode of delivery is ramping up Walmart's delivery service.
Amazon Brand Analytics Removes Features
Image Credits: Tamebay
Brand Analytics is a feature that gives Brand Owners vital information to help them make informed, strategic decisions regarding their product portfolio and marketing/advertising efforts.
Amazon Seller Central said in their news piece that brand analytics is removing two features: item comparison and alternative behavior dashboard. This implementation is effective on June 30th, Thursday.
According to Amazon, seller feedback and usage data indicated that the dashboards were not as helpful as they thought. As a result, the retail giant has decided to eliminate the said dashboards and brainstorm on the new features in 2023.
Takeaway: According to seller feedback and usage volume data, these dashboards don't always provide impactful and actionable insights, so Amazon is looking into adding deeper customer behavior analytics in 2023. It's reassuring that they're still working to improve the Amazon Brand Analytics insights they provide.
Join us for a live [Sourcing Masterclass] Negotiating Your Way to Success When Sourcing From India on Wednesday, June 22nd, 2022 at 8 PM EST
After the 7 Figure Sourcing Summit, I'd like to spotlight India which is the fastest sourcing alternative to China. I've invited India Sourcing experts, Meghla Bhardwaj and Margaret Jolly of India Sourcing Network to walk us through negotiating your way to success when sourcing from India.

In this 60 min live Masterclass, Margaret Jolly and Meghla Bhardwaj, Co-Founders of India Sourcing Network will share strategies for negotiating with Indian manufacturers to learn:
Proven negotiation strategies to get you the best price
When to start negotiating
What to negotiate apart from price
Cultural sensitivities when negotiating so you don't offend them
Common mistakes to avoid that could cost you time and money
Join us live on Wednesday, June 22nd, 2022 at 8 PM EST
Excited to know how to source from India and scale your business? RSVP and submit your questions to Meghla and Marg here.
See you inside!
[REPLAY] Sourcing Experts from China, India, Mexico, Vietnam, Europe, and the US discussed how to source from their countries
Earlier this week, we had two live panels with a dozen sourcing experts to share with you valuable insights and I'd like to share the replay with you in case you missed it live.
Watch the replay to get all of your sourcing and supply chain questions answered such as:
– Can I source my product from X country?
– How can I find a trustworthy supplier from X country?
– Will it be cheaper than China?
– What scams will I need to watch out for?
– The #1 negotiation tip that will save you tens of thousands of dollars
– What's the best online platform you use to source and why? Alibaba vs Global Sources
– Certification and Testing – this is causing suspensions – what needs to be done?
– How to differentiate your product even if you don't have any design skills
– And much more.
In session 1 we covered Sourcing in a Post-Pandemic World. I invited six sourcing experts from China, India, Mexico, Vietnam, Europe and in the US to deep dive into the topic.
Watch the replay here: [Sourcing Masterclass] Sourcing in a Post-Pandemic World
On day two, we had an Advanced Shipping, Quality Control, Negotiations, Product Design, and Advanced Supply Chain strategies on a live Panel as well. So, make sure to check this one out to get the right strategies in your next shipping transaction.
Watch the replay here: [Sourcing Masterclass] Shipping, Quality Control, Negotiations, Product Design, and Advanced Supply Chain strategies
Watch the replay now and get your sourcing questions answered by the top sourcing experts in the industry.
Day 1 – [Sourcing Masterclass] Sourcing in a Post-Pandemic World
Day 2 – [Sourcing Masterclass] Shipping, Quality Control, Negotiations, Product Design, and Advanced Supply Chain strategies
In case you missed it:
Have a great weekend!
-Gary
Update 6/3/22
As of Wed. June 1st, 2022 Shanghai has lifted the COVID lockdown according to Reuters.
Source: Reuters/Aly Song
While the people are starting to resume a normal life and offices are now open, in terms of the supply chain it can be best summed up as "Everything is happening at once" according to Jarrod Ward, a supply chain executive from Yusen Logistics based in Shanghai. 
Further reports from supply chain professionals say that "I think the best way to describe it is that the firehose has been turned on full but the water is being forced through a sieve. There's massive back pressure and splatter as everyone is trying to figure out how to make things work while complying with the new reg(ulations)."
Takeaway: While this is great news it may be a bumpy ride ahead in the near future as the supply chain tries to get back on track.
The Sourcing Shift Away from China?
As of mid-2022 China is no longer the only sourcing game in town.
We have seen a shift away from China in the last 3 years as other sourcing destinations are gaining a share of the sourcing market.  
According to a survey of US and European businesses by QIMA, the top sourcing destination has shifted away from China. In 2019 China represented 61% but it fell by 14% to 47% in Q1 2022.
Similarly, India's sourcing market share has risen dramatically from 6% to 10% in the past 3 years.  
The takeaway is we are seeing a shift in the sourcing and supply chain base towards countries like India and Vietnam.
Another key trend is "Nearshoring" as buyers are shifting their sourcing to nearby destinations such as Mexico for US buyers and Europe for buyers in the EU. The thinking is that this close proximity will reduce shipping costs, lead times, and lower duties and tariffs.
A key point to consider is that while buyers are shifting sourcing, they are not completely moving out of China because China is "too big to ignore".
No other single country can replace China.  In fact, the big players such as Apple and Nike have been adopting a China +n strategy.  They are outsourcing some products to other countries while keeping the non-movable production in China.  They have been doing this China +n for years.  Shouldn't you? 
Good news – you probably don't have a sourcing or supply chain department in your business so I've done the work for you.
Introducing the 7 Figure Sourcing Summit (June 13th – 14th, 2022)
I'm super excited to announce the 7 Figure Sourcing Summit – The A to Z resource for all your Sourcing and Shipping Needs launching online June 13-14, 2022.
It's like the 80/20 of sourcing from around the world.
You won't find a resource like this anywhere else and you will learn sourcing strategies directly from 7 to 8 Figure Ecommerce sellers and sourcing experts.
You can get your free pass right now at http://7figuresourcingsummit.com/
See you inside!
Amazon Ad's Prime Day Summit is just around the corner
Image Credits: Amazon.com
Prime Day has signified a peak period for Amazon Sellers. This event also ensures that merchants reach out to customers, increase sales, and simultaneously build their own and Amazon's businesses.
Amazon has established the Amazon Prime Day Summit. It will be held on June 7th and 8th, from 9:00 a.m. to 12:00 p.m. Pacific Time.
The first step is to create an account on your Seller Central dashboard. This can also help you create or improve a Peak Advertising Campaign and create powerful product description pages. It's even better if you use the sessions to assist you set up and monitoring practices for your firm's advertising side.
The summit will also give sellers an overview of numerous reports and a more excellent grasp of applying what they've learned to achieve success. There will also be live Q&A sessions to address vendor problems and questions.
Takeaway:
Constant learning is an essential variable to the growth of your business. Stay relevant and innovate, especially in implementing strategies to keep up with the competition. Events similar to this Prime Day Summit can help.
Remote Fulfillment with FBA adjusts its fees
Image Credits: eCOMMERCE BYTES
Businesses that participate in FBA in the United States have been permitted to employ remote fulfillment with FBA since 2018. This is to make their merchandise in the United States available for purchase in Canada and Mexico. Customers have benefited from the program since it has expanded their options and made it easier to sell outside of the United States.
Amazon's Remote Fulfillment with FBA takes advantage of domestic and foreign marketplaces. Amazon has made considerable efforts to assist its sellers better, nearly doubling the number of fulfillment facilities available. Over 750,000 full-time and part-time jobs were also added. All of this comes with an increasing hourly salary, ranging from $15 to $18.
However, beginning June 30, Amazon will adjust remote fulfillment fees with FBA fulfillment fees. These increases are believed to be comparable to or less than the industry average for fulfillment services. To better comply with the conventional FBA rate structure, they will also incorporate a dimensional weight adjustment in their rate calculation.
Takeaway:
This initiative helped retailers to expand their business. However, we need to go to 2022 remote fulfillment with FBA fee changes to study how the shifting prices of fulfillment, shipping, storage, and customer support can influence our business.
[Video Replay] The Sourcing Algorithm Live Webinar
Did you know that Sourcing can make or break your business?
Gary Huang, founder of the 7 Figure Sourcing Summit and 80/20 Sourcing just provided a valuable discussion
In this masterclass, Gary shared the landscape of the supply chain around the world, what are the major changes that you have to know in 2022 and the 80/20 of the different areas of the world you can source from.
In this 60-minute live webinar, you'll learn:
[2:48] Which of the countries most of you are interested to source from? [3:20] Where most of you are currently sourcing from? [4:09] Sourcing is Changing [6:26] China – Sourcing King [9:40] Q&A: What platforms should we use for sourcing apart from Alibaba [11:08] India – Rising Star [15:32] Mexico – Pura Vida [19:44] The 9-9-6 work culture in China [21:00] Vietnam – Big Players [25:41] Q&A: How to get connected online with Vietnam sellers? [27:34] USA – The American Dream? [31:09] Q&A: What is the best country to source for Amazon Middle East and Australia? [32:05] Sourcing Countries At A Glance [32:45] Type of products you can get from different countries [40:05] The 7 Figure Sourcing Summit – The A to Z resource for all your Sourcing and Shipping Needs
In case you missed it:
Have a great weekend!
-Gary
What we know
Port congestion in Shanghai could lead to airfreight congestion
Shanghai aims to lower down restrictions on June 1
Beijing authorities are strictly monitoring business ad residents
Image credits: Pexels
According to South China Morning Post, Shanghai aims to lower down restrictions on June 1. However, the production backlogs could lead to airfreight congestion in the coming weeks as they decide to loosen the pandemic restrictions. Despite this, the vast majority of shops, restaurants, and enterprises remain closed, and a work-from-home policy remains in effect.
Beijing on the other hand is still the Covid-19 hit capital of the country. As a result, they continue to tighten their zero-CoVid approach imposing consequences and punishments on businesses and residents that will not follow the mandate, Rappler Asia Pacific reported on Wednesday.
Despite the damage it has caused to the world's second-largest economy and global supply networks, the government continues to focus on the zero-COVID policy. After a series of incidents involving a private logistics company within its control, certain employees of the state-run Beijing postal service were either fired or given a strong warning.
A few employees at a Beijing branch of the state railway corporation disguised their trip history and have been placed under police investigation.
According to the Shanghai local statistics bureau, exports from Shanghai, the world's biggest container port, tumbled 44% year on year last month, while imports fell 33%, the steepest decrease since at least 2011.
E-commerce retail Q1 2022 report: a blip in the radar?
Image credits: Pexels
According to data provided by the US Department of Commerce on Thursday, US retail e-commerce sales in Q1 2022 totaled roughly $250 billion, up only 2.4 percent from the previous quarter.
According to the DOC, seasonal fluctuations were considered, but not price hikes. When you factor in inflation, the 2.4 percent increase in sales effectively flattens the e-commerce growth curve, which has been sagging since the third quarter of 2021, when e-commerce retail sales fell -0.7 percent from the previous quarter.
Overall retail sales in the United States were predicted to be $1.75 trillion in Q1 2022, up 3.7 percent from Q4 2021. Total retail sales grew 10.5 percent year over year in the first quarter.
As the Covid-19 lockdowns loosen, more customers are opting for brick-and-mortar retail. The e-commerce giant retailers are not an exception to the downward slope in the e-commerce growth curve during the onset of the pandemic. Amazon lost over $4 billion in the first quarter, its first quarterly shortfall since 2015.
Yet, this does not hamper the e-commerce sector from pooling the considerable market share gains. The annual e-commerce sales approach $1T, a double of the past three year's sales.
While YOY comparisons of e-commerce retail sales show a strong, mature online sector—DOC reported a 6.6 percent YOY increase in e-commerce retail sales in Q1 2022—the YOY growth rate in 1Q 2021 was an exponential 47 percent.
According to Prologis, e-commerce share will climb more exceeding its pre-pandemic trajectory. This is because of improved online sales technologies and same-day and next-day delivery strategies.
Takeaway:
This report has two separate trajectories for ecommerce. Is a sign that e-commerce is slowing down or maybe it is just a bullish outlook? Do we really feel the slope going downwards, or this is just a blip in the radar?
Amazon Reportedly Ready to Dump Excess Warehouse Space
Image credits: Pexels
Amazon plans to lease some of its warehouse space to reduce excess capacity. The retail giant acknowledged it overbuilt its warehouses as it sought to meet pandemic demand. The company is finding ways to sublease the surplus of space estimated to be more than 10 million square feet. 
Amazon leased over 100 million square feet and owned 4.4 million square feet of fulfillment, data center, and other categories in North America at the end of 2019.
Depending on the market, other types of space are still being acquired by Amazon, such as Southern California office space, where it recently secured leases for a total of 439,500 square feet in Santa Monica, Irvine, and San Diego.
This big move from Amazon follows the first quarterly loss they incurred in April in which demand declined and affected the company's warehouse operations.
Takeaway:
Amazon sees a slowdown in their sales and is subleasing excess warehouse space and it could be a benefit to sellers in fewer inventory restrictions
Join me for a Live Training on Tuesday May 31, 2022 at 8PM Eastern Time about The Sourcing Algorithm
I've interviewed over 170 7-figure and 8-figure ecommerce experts and sellers. They said the ONE thing you need to get right is to choose a five-star profitable product.
After product selection, sourcing is the most important part of your ecommerce business. Because if you get it wrong, it can become a huge bottleneck and will bring forth bigger problems in the long run.
Sourcing products for your eCommerce business is no longer a one-trick pony.
Previously everyone considered China as the first and often ONLY place to source and manufacture products for their ecom and FBA business.
Nowadays with the uncertainties with COVID and lockdowns continuing in China, many people are considering alternatives like India, Mexico, Vietnam, and even the US.
If you want to source well, there's a lot that you need to know.
But the ultimate resource you need to learn all of this from doesn't exist yet. So, I decided to create one based on my over a decade of experience in sourcing and supply chains.
I've visited hundreds of factories on the ground in China, partnered with dozens of suppliers, and overseen millions of dollars of purchase orders with suppliers. In addition, I have an extensive network of sourcing and logistics contacts in India, Vietnam, and Mexico.
I've created The Sourcing Algorithm – the ultimate resource you need to start sourcing from China, Mexico, Vietnam, India, and the US.
Join me as I will share this Sourcing Algorithm on a live webinar, Tuesday, May 31, 2022, at 8PM Eastern Time.
Reserve your spot and send in your questions here: https://forms.gle/7FbSahBQaLXV619t8
See you inside!
Get your Free Pass to 7FSS6 Evergreen now!
Registration is now open for the 7 Figure Seller Summit 6 Evergreen! Get ready to discover how 7 and 8 Figure Sellers think, overcome challenges, and strategize ahead of the e-commerce game.
If you missed it the first time, good news! Due to popular demand, we have made 7FSS6 Evergreen. That means you can get a free pass to watch for a limited time right now!
You will learn how to do the following:
Develop the MINDSET of a million-dollar business owner and FUNDAMENTALS of creating a 7 Figure eCommerce business
Master MARKETING and Building a BRAND and Optimizing PPC to drive external traffic to your listings, build an audience that you can launch to, and rank your products with,
Implement strategies to SCALE your e-commerce business, so you're working ON your business and not IN your business
Increase your PROFITABILITY, know your numbers, and cut expenses, so you keep more money in your pocket…
EXITS – How to build a business that will be attractive to buyers so you can SELL it
We're excited to have over 30 outstanding entrepreneurs and experts speaking at this eCommerce online event. Enjoy over 30 hours of masterclasses and expert training! You will have 24 hours to view each session for FREE!
However, we believe that every individual, especially business owners, has a timeline and learning curve.
Learn more about this 7FSS event and grab your free pass now!
In case you missed it:
Have a great weekend!
-Gary
What we know
Shanghai continues to be in lockdowns for over 6 weeks now
Tesla nearly stops production at its Shanghai plant due to a lack of component supplies A lot of companies experienced plunging sales this Q1
We are unsure when China can lift the lockdowns
As Shanghai enters its 6th week of lockdowns with no end in sight, the impact on the supply chain has already reached the global scale. Companies all over the world have felt the disruption.
Automakers, fashion houses, breweries, tech firms, and other 180 companies considered China's lockdowns key variables affecting their Q1 earnings.
In fact, even Tesla has been forced to slow production nearly to a stop at its Shanghai plant this week because of a lack of subcomponent availability due to the Covid lockdowns according to a Reuters report.  
We will keep our eye on this as the uncertainty continues. 
Shopify is buying their way into the 2-day shipping game
Image Credits: Shopify News
Shopify recently bought the logistics company Deliverr for $2.1 billion dollars. This move is the largest acquisition Shopify has made in its history.
The Shopify Fulfillment Network (SFN) and Deliverr have teamed together to simplify supply chains for merchants of all sizes, both on and off Shopify, democratizing access to end-to-end logistics for independent companies.
The company plans to combine Deliverr with its existing fulfillment network. They will also leverage this action to power their Shop Promise guarantee. It is a new service that aims to provide customers with a two-day or next-day delivery.
Shopify seems to have taken this step to compete with Amazon's Buy with Prime initiative to cater to third-party merchants searching for a faster and more reliable shipping solution.
Takeaway:
The Ecommerce war between Amazon and Shopify is intensifying as Shopify is buying its way into the 2-day shipping game to compete against Amazon Prime. 
Walmart's e-commerce sales were flat in the most recent earning report
Walmart recently released its earnings report on Tuesday. The numbers fell far short of Wall Street projections as rising gasoline prices and greater inventory levels pressure the nation's largest retailer.
Specifically, according to CNBC, their e-commerce sales increased by only 1% since last year, and 38% based on two-year progress.
Takeaway:
Is this flatness in e-commerce a temporary blip on the radar from Walmart or a sign of more significant slowdowns ahead?  
[Video Replay] Amazon Business Optimization – Learn How To Scale And Grow The 5 Main Business Functions
Did you know that Optimization can help scale your Amazon business exponentially?
Yoni Mazor from GETIDA just provided a valuable discussion on Amazon Business Optimization – how you can scale and grow your Amazon business with the right optimization strategies. In this masterclass, Yoni shares how you can start to scale your business by optimizing your 5 Main Business Functions.
You'll learn:
[2:40] Who's this session for today and why should they watch?
[8:08] Optimization Overview [8:44] Optimizing the Accounting side of your business [11:56] Know your profit and loss so you can react in real-time [16:18] Human Resources – Platforms where you can hire and outsource your operations [21:30] Hire and invest in people who are smarter than you [24:50] Logistics – Best practices and platforms to optimize your logistics [26:51] Air shipping "First Choice Shipping" – Get your products more quickly [29:26] Shipstation – streamline orders from e-commerce marketplaces across the board [31:00] Expand your Product Distribution at any given time [36:05] "I have a manufacturer that I love, how do I know if I'm saving money?"  [36:50] Operations – Platforms that will help you optimize operations
[37:55] Spott – Insurance policies for selling on Amazon
[41:45] Textme app – get a virtual biz phone number for calls and texting [49:39] Tools you should consider to scale your business [52:55] GIMP – like free Photoshop
[58:07] Scaling on amazon is a game of tools [58:30] Full Amazon Scaling Blueprint List [59:01] Auditing – The Rules of the Game [59:47] Why do you need help auditing FBA – Case Study: A Seller that got a 7X multiple during an Exit
Join the Orange Klik x Dragonflip Barcamp on June 9 -10
Next month, in Portugal, there will be an in-person international Amazon Barcamp event called Orange Klik Barcamp. This could be a good opportunity for you if you are selling over Amazon and you want to network with and surround yourself with like-minded e-commerce sellers in Europe.
This English-speaking Amazon FBA seller is coming up on June 9-10th in Lisbon, Portugal! 🇵🇹
Organized by Orange Klik and Dragonflip, this Barcamp event will bring together hundreds of like-minded attendees whom you'll have the chance to network with, address your e-commerce problems, and pitch ideas to fellow sellers.
By attending this "unconference" type of event, you will have a chance to:
✅ Learn from 100+ international sellers in one place
✅ Get only attendee-generated content that solves your biggest issues
✅ Choose the content that you want to learn about the most
✅ Discuss only the most important and hottest topics to help you grow your FBA business
✅ Network, meet new friends and business partners
👉 Limited tickets are available now. First come, first served. https://orangeklik.com/barcamp/ 
Orange Klik will offer a 50€ discount when you register through this link and use my code: 7FSS
Note to be transparent – I'm an affiliate of Orange Klik and I believe that this is going to be a great event.  If you do purchase a ticket I will receive a small commission to help us keep creating the best award-winning content to help you grow your e-commerce business.  And it helps pay for my coffee!  Thanks!
Get your Free Pass to 7FSS6 Evergreen now!
Registration is now open for the 7 Figure Seller Summit 6 Evergreen! Get ready to discover how 7 and 8 Figure Sellers think, overcome challenges, and strategize ahead of the e-commerce game.
If you missed it the first time, good news! Due to popular demand, we have made 7FSS6 Evergreen. That means you can get a free pass to watch for a limited time right now!
You will learn how to do the following:
Develop the MINDSET of a million-dollar business owner and FUNDAMENTALS of creating a 7 Figure eCommerce business
Master MARKETING and Building a BRAND and Optimizing PPC to drive external traffic to your listings, build an audience that you can launch to, and rank your products with,
Implement strategies to SCALE your e-commerce business, so you're working ON your business and not IN your business
Increase your PROFITABILITY, know your numbers, and cut expenses, so you keep more money in your pocket…
EXITS – How to build a business that will be attractive to buyers so you can SELL it
We're excited to have over 30 outstanding entrepreneurs and experts speaking at this eCommerce online event. Enjoy over 30 hours of masterclasses and expert training! You will have 24 hours to view each session for FREE!
However, we believe that every individual, especially business owners, has a timeline and learning curve.
Learn more about this 7FSS event and grab your free pass now!
In case you missed it:
Have a great weekend!
-Gary