Why should I attend?
Want to sell into the 4th largest Amazon marketplace that virtually nobody is talking about?
There's no need to spend months figuring this out – over 2 days, you will learn the exact steps to launch and sell your products on Amazon Japan.
What will I learn?
The complete turnkey solution to sell into Amazon Japan
Launch strategies that are unique to Japan (throw out your US/EU launch playbook)
External marketing strategies native to Japan (beyond PPC)
Make all the connections you need to sell into Amazon Japan – Importer of record, warehousing, accountants, trademark agencies, translators, and more
The A to Z of How to sell into Amazon Japan even if you don't speak any Japanese
The exact requirements for your product to be imported into the countries
The most common mistakes sellers make when selling into Japan (Japan is not US or EU)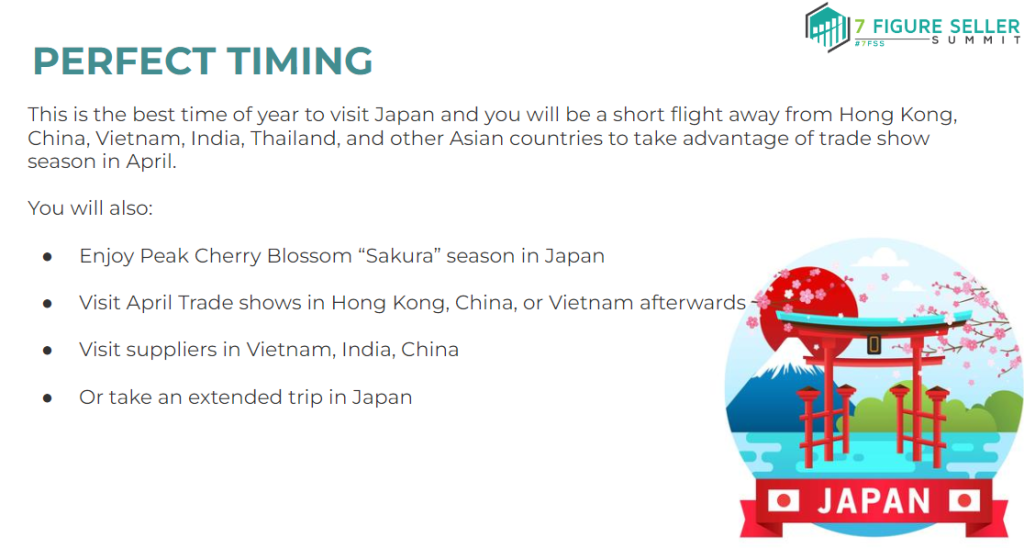 Even if right now you know nothing about selling in Japan, you will have everything you need to sell in Japan at the Amazon Japan Mastermind.
And you will have the right connections.
You will be able to execute and sell into Japan in weeks.
And you will meet real sellers and mastermind with them to grow your business to the next level.
If you have any questions at all, we will answer all your questions and we will leave no stone unturned.
Who's it for?
Amazon and eCommerce sellers that want to sell into Amazon Japan (the 4th largest Amazon marketplace in the world – that nobody is talking about)
So we're going to offer them everything they need to successfully sell on Amazon Japan
You will learn from:
7 figure sellers selling in Amazon Japan
Importers of records so you can legally import products into Japan
Warehousing and logistics providers
PPC Experts
Accountants
Lab testing providers to make sure your products can be legally sold in Japan
Inspection Agencies
We will have all of the steps you'll need from A to Z to just start selling in Japan
Expected turnout: Limited to 100 sellers – first come, first served.
Location: Tokyo, Japan – Easy to fly into and transit to other parts of Asia
Venue: TBD – Coming Soon

10 Reasons Why You Should Start Selling in Japan N-O-W
1. Japan is the 4th biggest Amazon place in the world.
2. There's far less competition with Amazon Japan than with the other large Amazon marketplaces
3. LOWER PPC COST
4. You don't need to know Japanese to sell in Japan. Seller Central is in English and you can hire Japanese support
5. Lower shipping cost and faster shipping time from the Asia factory back to Japan
6. Amazon FBA works quickly in Japan
7. The market size is much larger. There are about 140 million people in Japan, and 80% of them shop online
8. You don't need to register a company in Japan to sell in Japan, you just need Japanese importer records and make sure products are compliant which we will make sure you do.
9. There are unique marketing channels in japan that you can use to build an audience and make a lot of sales at a low cost.
10. If you are already selling in the Amazon US/EU marketplaces you may have an advantage selling in Japan using your products.
If you position and market your products the right way, you can generate an additional 200k – 500k USD revenue per year.
FAQ
1. Do I need a visa for Japan?
No. Japan offers visa-free access to over sixty-eight countries. Check here for details.
2. Is Japan super expensive?
No. The costs to sell and ship products into Japan will be about the same as selling in other marketplaces around the world.
The shipping costs could be lower and the speed faster if you are sourcing your products from China or Asian countries.
Japan is a lot closer to these manufacturing regions and you can get them there in weeks rather than months.
This allows you to turn over your inventory faster to save you time and money and free up your cash flow from having to order months and months of inventory than if you were shipping products to the US or EU from Asia.
Moreover, the Japanese Yen is at a 30-year low against the US Dollar. This means that things in Japan will feel cheaper than before.
Couple that with the fact that Japan has been in a long period of stagnation and prices have not risen significantly.
This means that Japan may not be as "expensive" to do business in as you think!
3. How much should I budget for an event like this?
What is $3k vs $300k you could sell in Japan?
4. How much should I budget for a hotel?
Hotels range from $150-200 per night, food will be provided – breakfast, lunch, and coffee
Our event will be held in Tokyo and we will have discounted prices.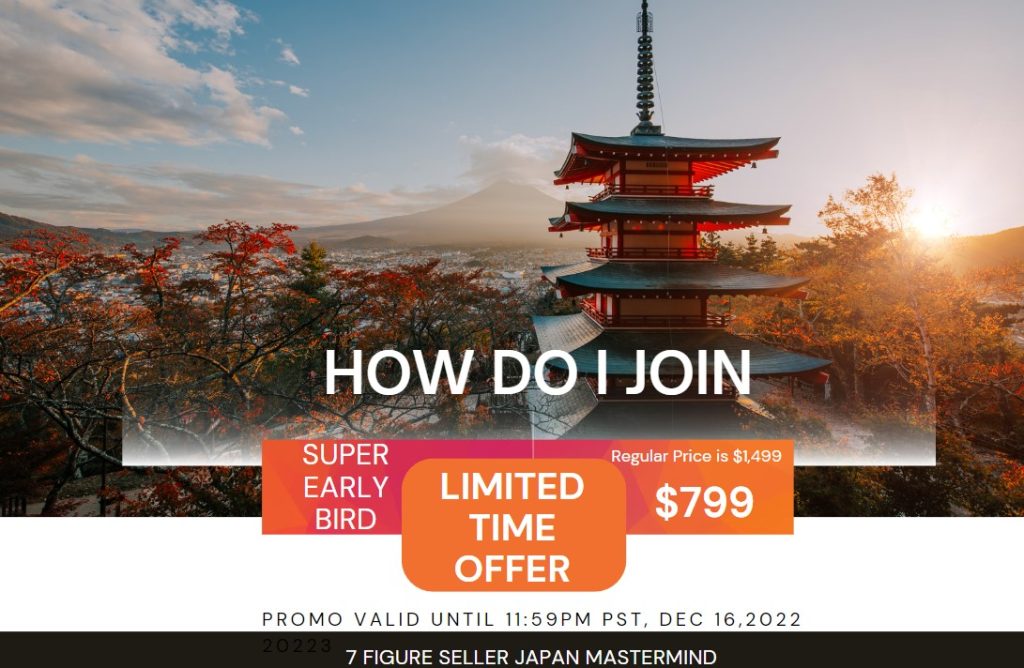 GET YOUR PASS NOW
7 Figure Seller Japan Mastermind – Tokyo, 2-days (April 4 – 5, 2023)