Amazon Prime Day is losing its sizzle
Image Credits: KSL NewsRadio
Is Amazon Prime Day really losing its hype? As of now, Amazon has not revealed specific details about their Prime Day Amazon sales performance, but according to Insider Intelligence, it is anticipated to increase by 17% YoY to $7.8B.
According to the Wall Street Journal, Amazon Prime Day's blockbuster is not the same as before. Prime Day's sales growth is declining as Amazon no longer invests in exclusive product launches and partners with celebrities to host the Prime Day concert.
However, the truth behind the success of this year's Prime Day is still unknown. While many speculations say that the event is losing its fire, Amazon discussed with WSJ that it is still a success.
Takeaway: Is Prime Day 2022 a flop? If yes, then the slowed increase in sales for the shopping event may be due to the current problems that retailers face: high inflation, changing consumer patterns, and cost reductions.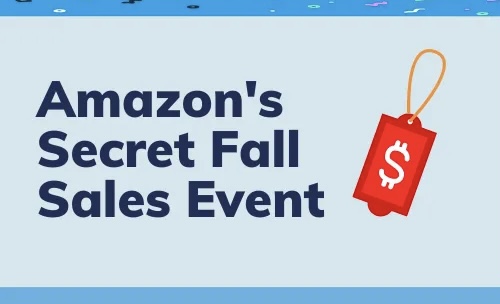 Image Credits: Envision Horizons
The CNCB announced on their latest news article that the 2nd Prime Day will be on the 4th quarter of this year. Many sellers think the reason for this event is for Amazon to recreate its success during the October Prime Day in 2020.
If you try to take a look at the lightning deals present at the top most of your account, you will notice a blurb indicating to submit the second Fall Prime Day. Amazon's deadline for deals submission is on July 22nd.
On one hand, sellers and third-party merchants are starting to grow their frustrations due to lack of information. The short notice on the submission of lightning deals even disappoint them.
Takeaway: The event is rumored to happened second week of October. Sellers and merchants have a lot of preparations to do in the two remaining quarters of the year. They should ensure that they have enough inventory, revamped product listings, create competitive deals, and drive traffic not only for the Prime Day 2.0 but also for the subsequent events such as the Black Friday and Cyber Monday.
Sponsored Display product targeting has evolved
Example of where a Sponsored Display ad placement may be displayed off Amazon Image Credits: Amazon
Amazon will replace the product targeting used in Sponsored Display with contextual targeting. This will enable advertisers to reach more customers both within and outside of the Amazon shop.
There is no need to change anything. Advertisers do not need to alter the items or categories they are targeting to use the new functionality. Sponsored Display will locate the best possibilities to extend advertising reach to websites and mobile apps in addition to stores.
Previously, these campaigns would only appear on the Amazon store's product pages. Now, Amazon's machine learning will help their registered sellers drive additional reach and opportunity beyond Amazon while still observing the bidding strategies and objectives.
Takeaway: This change is important for sellers and merchants. It aims to help them reach their audience even more as well as drive awareness regarding their product offering.
[Video Replay] How to Avoid the 3 Common Pitfalls When Selling your Business
The summer of 2021 was the pinnacle of the marketplace before it slowed down. Does this mean the end of selling your Amazon FBA business?
If you are one of the many eCommerce owners who want to sell their businesses today to scale and achieve financial goals, then you should know the right strategies to market your business at a top dollar. We recommend you watch this highly valuable live training about "The 3 Pitfalls you should Avoid When Selling Your Business" Chris Wozniak from Quiet Light gave to our audience
In this 60 min live training, Chris Wozniak, a Certified Mergers & Acquisitions Professional at Quiet Light will walk you through strategies to maximize your exit and learn about:
[2:50] Summer of 2021 was the pinnacle of the marketplace before it slowed down [3:20] Sellers still want to sell and buyers still want to buy even if we go into recessionary period [4:35] Businesses netting at $500,000 SDE (seller's discretionary earnings) and with positive trends can still get a good multiple at 3.5-4x [07:30] Different levels of addbacks (from health insurance, payroll taxes, to other variables) [9:35] Raising prices for 3 months without change can retroactively add back to your business [11:00] The steps you take before you sell [12:07] Forecast the next 2 to 3 years and firm up tax returns if you desire to sell [15:40] Why you shouldn't run your business like you're going to sell and what you should do [19:20] Pretend like you're not selling and focus on maintenance, growth, and critical timing
make sure you're irreplaceable
[24:30] Is it still important to have VA's running everything or can the business be bought with me running things and I stay on getting a percentage? [24:45] When buyers get online businesses they are attracted to far less hours owner works weekly [28:00] Buyers must trust their advisors because they have the responsibility to represent you [29:10] Advisors have the qualifications, experience, and capacity to represent both buyers and sellers [39:33] What % profit margin should be my target to sell my business at a decent price? It is currently only around 10% and I would like to get an idea how far off the mark I am for selling. [40:00] Rule of thumb: The higher your margin, the higher your valuation [49:10] What is the most important step to sell my business on Amazon FBM? [49:39] Doing self fulfilling business becomes less attractive to more buyers – having a good 3PL to use that's cost-efficient can help [53:30] Learn more about how you can sell your business and its valuation here:
https://quietlight.com/advisors/chris-wozniak/
If you'd like to learn more about what your business valuation could be and what steps to take to prepare for an edit (even if you're not ready right now) I recommend you book a call with Chris. https://quietlight.com/advisors/chris-wozniak/
Watch my session at SellerFest Online to learn about the Amazon Sourcing Algorithm
Earlier this week, I took part at the Seller Fest Online organized by Orange Klik where I talked about sourcing for Amazon from different destinations and what are the things to know when it comes to sourcing from a specific country. You can watch the replay here.
Seller Fest Online, featuring 30+ Amazon experts, runs until Friday (July 1st) and you can still make it to the rest of the sessions. Learn more about the upcoming live sessions here and get your free access now!"
7 Figure Seller Summit 7 Aug 22-26, 2022 – Call for Sponsorship
We are excited to plan the 7 Figure Seller Summit this August, and there are a few sponsorship opportunities that some of you may be interested in.
If you're purely a seller not interested in sponsoring, pls disregard this email. If you missed the last 7 Figure Seller Summit, the good news is you can get a free pass for a limited time here.
If you are interested in sponsoring, or if you know someone who is interested – please fill out this form to learn more: https://bit.ly/3I4SE8Z
Thanks!
In case you missed it:
Have a great weekend!
-Gary